Which one of these three distinctly different automatic crossovers sits at the top of the lifestyle pile?
Try to think of the most sought-after type of car out there and, while the hoi polloi might be considering supercars and ultra-luxury grand saloons, as a reader of CAR magazine, you'll no doubt come to the conclusion that, currently, the most coveted set of wheels around are likely the plump items bolted to light/compact SUVs. These cars have all but seen off the likes of station-wagons in certain markets and are increasingly popping up on the buying radars of those previously in the market for family sedans.
They're also responsible for influencing a relatively new product – the increasingly popular light/compact crossover. These hybridise the SUV traits of pseudo-tough styling, enough practicality to accommodate the active lifestyle it suggests of its owners, and the degree of usability expected of its stock-standard donor vehicle.
In this comparative, we take a look at three members of said booming segment, each with an automatic transmission, that represent distinct approaches to those crossover provisos. One of them is our Top 12 Best Buys choice for light crossovers/SUVs, the Kia Soul; but do the other two perhaps have a better balance of the required virtues to make us rethink our choice?
Design & packaging
It's fair to say that the three cars represent pretty much the entire spectrum of the light-crossover aesthetic, from car-like to unabashedly SUV-inspired. Sitting firmly in the former camp is the CX-3. With its bodywork awash with sporty curves and cuts, marginally elevated ride height and subtle lower-body cladding, you'd be forgiven for thinking that we'd inadvertently thrown a hatchback into the mix. It's a handsome car, but could prove a little too softly spoken for those looking for a car to openly advertise their action-packed lifestyle.
It's much the same story inside the CX-3, where the cabin has been lifted almost wholesale from the Mazda2. That's not necessarily a bad thing, though. With its expanse of tiered, stitched-finished facia, broken only by a crisp infotainment screen and a pod-like binnacle within which all of the driver's displays and ancillaries are grouped, it's a well-built cabin with bags of character. Although the CX-3 looks as though it's dwarfed by the Soul, there's actually not that much separating them in terms of measurements. In fact, the CX-3's 155 mm of ground clearance marginally betters that of the Soul and, just as astonishingly, their wheelbase lengths are the same at 2 570 mm.
But when confronted by their cabins, it becomes apparent that the Kia's unabashedly boxy shell accommodates a comparatively cathedral-like amount of headroom that, along with a more substantial glasshouse and lighter trim above the cabin's beltline, imparts a far airier ambience than that of the darkly trimmed CX-3. The Mazda's tapering roofline also negatively impacts on rear headroom, and legroom is considerably down on that of the Kia. The luggage compartments are similarly contrasting, with the Soul's deeper, more accommodating boot serving up appreciably more load space. Clever packaging on the Kia's part aside, the CX-3's limited rear accommodation can be put down to the fact that FWD models share the only-available-overseas AWD's chassis, along with the space-eating housings for their rear-drivetrain components.
With its chunky, almost Tonka Toy-like shell, the Soul sits squarely at the SUV-flavoured end of the styling spectrum and is studded with funky, eye-catching details such as sizeable wheelarches, chunky aprons and a body-coloured hatch panel that "floats" in a gloss-black surround flanked by stacked brakelamp arrays. It looks suitably distinguished from anything else on the road and that will probably be enough to lure many crossover buyers. So, where does that leave the Captur? With its curvaceous styling that's a careful hybridisation of hatchback and crossover, studded with attention-garnering Renault staples such as that swooping headlamp/grille combo, allied with a surprisingly lofty 170 mm ground clearance, it strikes a middle ground between the CX-3 and Soul. It even incorporates a crossover cliché – plastic lower-body cladding.
The interior treads a neat line between that of the sporty Mazda and the more functional Soul cockpit. It's also roomier than expected inside, with head space measurements close to those of the spacious Kia. It's a rather clever interior courtesy of a sliding rear bench that is capable of freeing up a touch more luggage space in an already respectably proportioned boot. The Renault's load lip is lower, and the boot therefore more accessible, than those of its rivals. That makes it easier to extricate shopping/kite surfing gear/dogs and the like. But it's not all good news. You may recognise the Captur here as the long-term test unit that's been in our fleet for almost a year.
And, while the 15 500 km it's chalked up is hardly high mileage, the cabin's material frailties are already beginning to manifest themselves in trim creaks and rattles – something that's not afflicted this more solidly built but similarly travelled (12 000 km) CX-3. But it's the Kia's cabin that really impresses. From the rounded elements with stitched edging, piano-black gloss trim and fun touches such as the "floating" speaker grilles atop the dash, the material quality of the Soul's cabin is rock solid and imparts the car with a substantial and upmarket air.
It must be said that, while our conservatively coloured test units looked smart enough, they all cry out for more playful hues, especially the Soul and Renault, which can be further individualised with contrasting roofs.
Performance & fuel efficiency

As much as this trio's aesthetics present distinct takes on the crossover motif, their drivetrains represent divergent approaches to automatic crossover motoring. Renault has taken the most contemporary path, equipping the Captur with a small turbopetrol engine coupled with its own dual-clutch transmission. The 1,2-litre engine is a pleasant enough unit that's fairly refined and, with 190 N.m on tap from low revs, it feels punchy once in the middle of its rev range.
We remain unconvinced by the six-speed dual-clutch transmission, though. Although quick to respond to manual inputs and smooth at highway velocities, at low speeds the unit feels rather like some of the earlier dual-clutch units we've encountered. Perhaps there's an element of questionable throttle or engine mapping at play here, but it's slow to react from pull-away, which sometimes means that taking a gap or leaving a junction requires a more measured approach.
Mazda bucks the segment norm of small-displacement, turbocharged powerplants by shoehorning a hefty, naturally aspirated 2,0-litre petrol engine into the CX-3. With its 115 kW and 204 N.m of torque, it comfortably outguns its rivals here, as evidenced by a very respectable sub-10 second 0-100 km/h sprint time.
Although the six-speed auto's shifts are generally smooth, the unit has something of a sporting bent, enthusiastically downshifting when bursts of acceleration are called for and hanging onto gears when pinning the throttle further – doggedly so when the sport drivetrain setting is selected. It's a combination that sits well with the CX-3's more car-like character, but the growling engine note makes it the least refined of the trio.
The refinement gong goes to the Kia's smooth, naturally aspirated 1,6-litre engine. While it may trail the others in terms of outright punch, this unit's performance is more than sufficient for the round-town commutes that are likely to form the core of its duties. It meshes comfortably with its torque-converter transmission and is equally happy trickling through the gears in town traffic or kicking down a cog or two when pushed.
But we do have a couple of reservations: with modest outputs of 91 kW and 152 N.m, Reef altitudes may knock a bit of wind out of its sails and the 8,9 L/100 km it returned on our fuel route – in contrast to 6,6 for the CX-3 and the Captur's 6,5 (although our overall long-term figure sits closer to 8,0 L/100 km) – is unexpectedly high.
On the road

The CAR team is always taken with cars that have the capacity to entertain, so it came as some surprise that a member of the automatic light-crossover fraternity was often returned to the office by a beaming colleague. From a low-slung driving position, ensconced in sculpted seats, in the CX-3 you experience solid body control and responsive, weighty steering more akin to that of a sporty hatchback. Factor in that keen, punchy powerplant and this little car serves a driving experience that's palpably more engaging than that of its rivals.
Testers who've spent time with the Individual-spec model (also part of our long-term fleet), with its 18-inch rims and more aggressive 50-profile footwear, found that the Dynamic's 60-shod 16-inch rims serve up a ride that, while stiffer than the others, is noticeably more compliant. Even so, while the overall ride is good within the context of the CX-3 family, it does err on the stiff side, becoming choppy when encountering regular road-surface blemishes.
Unfortunately, the issue of ride compliance proves to be a thorn in the Captur's side … or, rather, its tail, where the torsion beam suspension setup is the least resolved of the three, serving up a ride that becomes quite crashy. It's a pity, as in most other regards the Captur is a pleasant car to pilot. And although it's not as dynamically awake as the CX-3, the Clio DNA in its underpinnings is evident in a pleasantly weighted steering system and pointy front-end.
From its lofty driver's perch, the Soul doesn't promise much in the way of entertainment. And, while it can be hustled along once you get a feel for its stance, it's not where the Soul's strength lies. We've often stated that the sign of a well-sorted car is that there are few obvious signs and, in the Soul, the ride and body control are holistically woven into the narrative without vying for the driver's attention or irritating in any way. It also possesses a desirable fire-and-forget effortlessness. Yes, the steering is more finger-light than sharp, but it's a good, progressive setup and the ride, although hardly plush, is the supplest here.
One area where the Soul does stand out convincingly from its peers is on the braking front, where our 100-0 km/h runs saw it return a sub three-second average versus its marginally slower, but still respectable rivals' times.
Value for money

As value propositions go, Renault's products take some beating, and that's very much the case here with the Captur. It edges the similarly well-equipped CX-3 by virtue of including sat-nav as part of its standard specification, but has a three-year/45 000 km service plan versus the Japanese car's three-year/unlimited km item. The Renault manages to do this at a sticker price lower than those of its peers.
Although its service plan is comparable to that of the Captur, the Soul looks somewhat expensive by comparison. It concedes such nice-to-have features as keyless ignition and entry, climate control, auto lights and wipers and, somewhat oddly for an automatic, cruise control.
Test Summary
Although we're generally careful to adopt a horses-for-courses approach to comparative test summaries, when summing up each of these cars, there appears to be some credence to that conclusion. Those seeking pseudo-SUV styling and a generously proportioned interior will be drawn to the Soul; the CX-3 provides a more car-like take on the crossover aesthetic and interior layout, not to mention palpably more punch beneath the bonnet and greater driver involvement; the Captur's properties, meanwhile, sit neatly in the middle. But, there's no denying the Soul is the best overall vehicle despite its power deficit, heavier fuel consumption and comparatively sparse standard-features list. Ultimately, its great design inside and out, refinement and usability, as well as an air of quality, make it feel more special than its still-capable rivals and reinforces why it is our current Top 12 Best Buys champion. *From the September 2016 issue of CAR magazine
Road test score
Kia Soul 1.6 Start auto
Price : R312995
0-100 km/h: 12.5
Power ([email protected]/min):
Torque ([email protected]/min):
Top speed: 177
Claimed cons. (l/100 km): 7.5
C02 emissions (g/km): 178
Renault Captur 88kW turbo Dynamique auto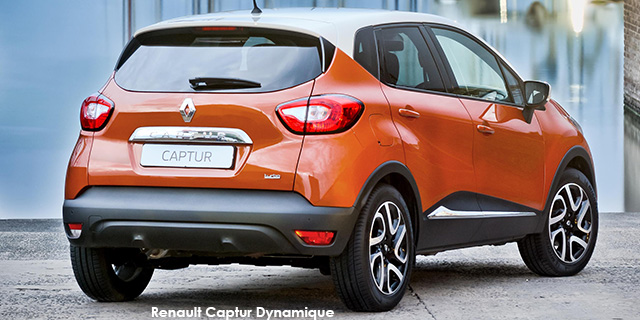 Price : R304900
0-100 km/h: 10.9
Power ([email protected]/min): 88/4900
Torque ([email protected]/min): 190/2000
Top speed: 192
Claimed cons. (l/100 km): 5.4
C02 emissions (g/km): 125
Mazda CX-3 2.0 Dynamic auto
Price : R322700
0-100 km/h: n/a
Power ([email protected]/min): 115/6000
Torque ([email protected]/min): 204/2800
Top speed: 192
Claimed cons. (l/100 km): 6.1
C02 emissions (g/km): 146