The second generation of one of Audi's best-selling models promises greater refinement ahead of a fierce tussle…
Parties considering the ever-popular premium-compact-SUV segment for their next purchase are about to have their collective hands full. Ahead of the all-new BMW X3 and second-generation Volvo XC60's arrival next year, this Audi makes its local debut to join models such as the impressive Mercedes-Benz GLC and British Jaguar F-Pace/Land Rover Discovery Sport duo in offering a keen audience something for all tastes and needs. As a key player in this segment, Audi South Africa will hope its second-generation Q5 builds on the local sales success established by its (introduced in 2009) first-generation model that, in a global context, is one of the best-selling compact SUVs of all time.
Like the original Q5, the new version shares an updated MLB evo platform with its A4 and A5 stablemates. As employed in the smaller models – and despite obligatory generational increases in overall dimensions – clever use of steel and aluminium in the Q5's underpinnings has allowed Audi to save a noteworthy amount of mass. In the Q5, this translates to a saving of up to 90 kg depending on the derivative.
While Audi's evolutionary approach to design ensures there's no mistaking where this model fits into the Q family, compared with the more rounded first-generation Q5, the new vehicle exudes a greater sense of presence and muscularity thanks mainly to the sweeping shoulder line that we've seen on other recent products from Ingolstadt, as well as a more pronounced family grille.
Finished in opinion-dividing Azores Green, our 2,0T FSI test unit was the Sport version that, for R50 000 more than the base model, adds small but notable touches of raciness to the package. On the vehicle's exterior, these include 18-inch alloy wheels (17 inches on the entry-level model), colour-coded fenders, visually enhanced diffusers front and rear, and an upgrade of the lighting package to include LED headlamps and fashionable, sweeping rear indicators. Inside, this Sport package adds neat highlights such as aluminium facia inlays, chromed lower arm on the steering wheel and more supportive sports seats. Here Audi has once again managed to build on its enviable reputation for class-leading levels of fit and finish, as well as impressive (although minimalist) ergonomics. Like other modern Audi products, there's much to appreciate in the simplicity and clarity of the switchgear and controls.
While Audi's optional (R7 000) Virtual Cockpit certainly adds to the Q5 cabin's already impressive sense of sophistication, its exclusion would not be a deal-breaker. We'd (begrudgingly at R800k) pay extra for keyless entry instead. From the comfort of a manually adjustable driver's seat, the new Q5 not only feels impeccably put together, but also cocoons its occupants in one of the most well-insulated cabins we've encountered; a feeling endorsed by a tested sound reading at idle of just 37 dBA, our lowest recording to date.
Playing a significant role in the impressive levels of overall refinement is the otherwise gentle workings of Audi's 2,0T FSI engine. Mated exclusively with a smooth seven-speed dual-clutch transmission, the turbocharged 185 kW engine impresses with its flexibility (370 N.m of torque is available between 1 600 and 4 500 r/min) and relative frugality. It returned a fuel-run figure of just 8,1 L/100 km. On its 70-litre fuel tank, drivers should see a range of more than 800 km. Add to this the ability to launch this particular model from standstill to 100 km/h in just 6,69 seconds, and there aren't many boxes left unticked in this powertrain's résumé.
Excluding the range-topping SQ5, the new Q5 range features Audi's Quattro Ultra all-wheel-drive system. This efficiency-oriented technology favours a front-wheel-drive arrangement (disengaging the rear axle) until conditions dictate otherwise. Within just 200 milliseconds, up to 100% of the available torque can be sent rearwards. Alternatively, the system can be locked into an all-wheel-drive configuration either via sport mode in the standard-fitment Drive Select menu or, as is the case with our test unit, by opting for the optional air suspension (R27 150). This, in turn, adds – among others features – an off-road mode. A nice touch on this latter is an all-terrain information display on the Q5's 8,3-inch MMI screen.
Resigned to the fact that the German manufacturers, in particular, favour long options lists, we'd recommend air suspension as a worthwhile addition. However, unlike the Mercedes-Benz GLC, where air springs transform the ride, a Q5 on steel springs and sensible tyres still rides with commendable compliance.
The air suspension's true advantage comes in its five-way-adjustable ride height, which can see it hunker down in bends, strike a midway balance that favours the superb ride quality and lift its undercarriage high enough for mild off-roading. Sport mode, particularly – which lowers the ride height, and increases the sensitivity of the throttle, transmission and steering setups – affords a level of surefooted prowess that adds yet another feather to this newest Q5's cap.
Test Summary
With the premium-compact-SUV playing field about to get suitably crowded, Audi has played its cards just right. Building on the previous model's successes, the new Q5 ticks a whole additional set of boxes. Our interior measurements confirm our subjective assessment that Audi has found an admirable middle ground between good rear-passenger and luggage space. In terms of interior design and perceived quality, meanwhile, it's the new benchmark. There'll be some who accuse Ingolstadt of playing it safe with the new Q5, most notably in styling, and rivals such as the F-Pace and forthcoming XC60 will certainly turn more heads. But, where Audi will feel confident, however, is that the Q5's refinement and comfort has lifted the bar to a height that will have many of its rivals, including next year's X3 and the all-conquering GLC, feeling more than a little uneasy. *From the October 2017 issue of CAR magazine
Road test score
Audi Q5 2.0TFSI quattro sport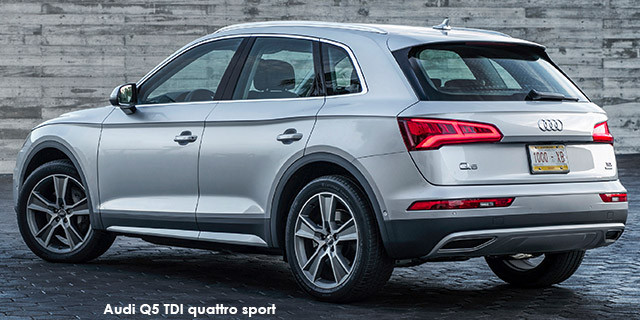 Price : R797500
0-100 km/h: 6.3
Power ([email protected]/min): 185/5000-6000
Torque ([email protected]/min): 370/1600-4500
Top speed: 237
Claimed cons. (l/100 km): 6.8
C02 emissions (g/km): 154