Superb dynamics are a given, but can the new 5 Series successfully bridge the gap between thrills and premium comfort?
Representing the middle ground between the technological tour de force that is BMW's flagship 7 Series and the more attainable, people's choice 3 Series, the weight of expectation borne upon each new 5 Series is significant. The most obvious benefactor of the technologies harnessed in the 7 Series range, the traditionally profitable Five needs to offer not only supreme levels of executive comfort and refinement, but also provide a platform accomplished enough to house the kind of dynamic DNA on which the Bavarian carmaker has built much of its reputation.
It remains a delicate balancing act. Infuse too much technology to aid comfort and convenience and the corresponding weight penalty becomes an Achilles' heel as the project nears the M division's in-tray. Focus too much on dynamic ability and the trade-off is likely reams of negative press around ride quality and inevitable comparisons against the likes of a certain, always impeccably tailored, rival from Stuttgart.
While in a modern motoring world tech such as adaptive air suspension and intuitive preset driving modes play an ever-important role in narrowing the notoriously treacherous field on which the likes of the 5 Series, Mercedes-Benz E-Class, Audi A6 and Jaguar XF play, good sense (and profitable balance sheets) suggests getting the formula right in its simplest form first.
The 5 Series was never going to be the product on which BMW hinges a break in the firm's aesthetic mould. Consequently, the seventh-generation (G30) Five borrows many of its styling cues from big brother (the G11). Of significance, however, is that these new family lines run deeper than just sheet metal, the 5 sharing much of its lightweight OKL platform (although not the expensive carbon-fibre core structure) with its larger sibling. In addition to a marked improvement in structural rigidity, the resultant weight saving throughout the range sees the new 540i weighing 95 kg less than the equivalent previous-generation 535i. A corresponding 0,22 Cd drag coefficient sets a new benchmark for this segment.
Of the aforementioned increased dimensions, a noteworthy 36 mm stretch in length (to 4 935 mm) translates to greater rear-passenger legroom (including seating for three adults), and a deeper luggage compartment compared with the outgoing Five; both are crucial measurements relating to vehicles in this class.
As the understudy to Seven, the new 5 Series gains many of the driver-oriented technologies and advancements introduced in the flagship; some for better and some for worse. While we remain sceptical about the advantages of gesture control in such a relatively confined environment (especially when it remains more natural to simply use a dash- or steering-wheel-mounted control), other features, including a more intuitive iDrive system linked with a new 10,3-inch touchscreen display, are welcome additions.
While the likes of the E-Class and especially the Volvo S90 offer more contemporary interpretations of facia design, the new 5 Series counters with perceived build quality and levels of cabin refinement that easily match their best-in-class standards. From a driver's seat that offers impressive levels of adjustment, to the now-familiar pistol-grip transmission lever and steering wheel-mounted paddles, combined with a larger-than-ever head-up display and even a centre console angled accordingly, there's little doubt that it's the driver BMW wants to impress most with the new Five. As such, the standard Driving Experience Control can be switched between eco pro, comfort and sport, the latter priming the electric power steering, transmission, throttle sensitivity and engine mapping for more spirited driving.
All models feature an intuitive eight-speed ZF automatic transmission. In the new 540i, this self-shifter is mated with a turbocharged 3,0-litre six-cylinder engine delivering 250 kW and 450 N.m of torque available from a low 1 350 r/min all the way to 5 200 r/min. While this B58-series engine shares similarities with the (2 979 cm3) N55 featured in the previous-generation 535i, the new 2 998 cm3 unit makes use of a larger turbocharger and shares a newly crafted crankcase with its equally brilliant six-cylinder 530d cousin.
In the 1 795 kg 540i, this impressive drivetrain is as capable of comfortably negotiating a commute (returning a fuel route figure of 10,2 L/100 km) as it is seeing off hot hatches from the traffic lights (0-100 km/h in 5,30 seconds tested).
The fact that air suspension is not featured on any options list is a sure sign of BMW's confidence in its achievements with the all-new suspension setup in the 5 Series. Even when fitted with both an optional M Sport package (including a 10 mm lower ride height) and 19-inch wheels (18s are standard), the new double wishbone front/multilink rear-suspension arrangement on our 540i test unit impressed with both its finesse in everyday driving conditions and composure once pushing on (even without the optional – R39 800 – Adaptive Drive system, incorporating fast-acting, electronically controlled anti-roll bars).
While a compliant ride is a welcome addition to the 5 Series' breadth of talents, it still boasts the 50:50 weight distribution front to rear, impressively flat cornering prowess and pin-point precise steering that are hallmarks of the built-in dynamic ability inherently infused into all BMWs. The optional, uprated M Sport braking system fitted to our test unit proved its worth by returning an excellent average emergency-stopping time from 100 km/h of just 2,78 seconds.
Test Summary
Despite the pressure placed on this particular segment by the unbridled popularity of the high-riding SUVs, the current crop of executive sedans, including the Volvo S90, Mercedes-Benz E-Class, Jaguar XF, Lexus GS, Audi A6 and now the new BMW 5 Series, remain shining examples of just how far each of these manufacturers has come over the course of their respective timelines. While it's easy to get lost within the technological highlights of each competitor in this segment, what makes the 5 Series the new benchmark is its impressive breadth of ability. It's large enough to transport five adults and their luggage in cossetting comfort, while remaining nimble enough to raise pulses, regardless of which engine option is ticked. What the 540i represents is a compelling argument against both the price tag and inevitable comfort compromises that the likes of the forthcoming V8-powered M5 will offer. Yes, the hallowed M badge will always draw attention, but the appeal of the 540i is that it offers genuine performance and handling prowess in a relatively low-key package that's just as happy navigating an urban environment as it is setting a mountain pass alight. What's even more encouraging is that the few members of the CAR team who've sampled the 530d claim that it is even more accomplished than the model tested here. So, as impressive as the new 540i is, there's a strong possibility that the best is yet to come. *From the June 2017 issue of CAR magazine
Road test score
BMW 540i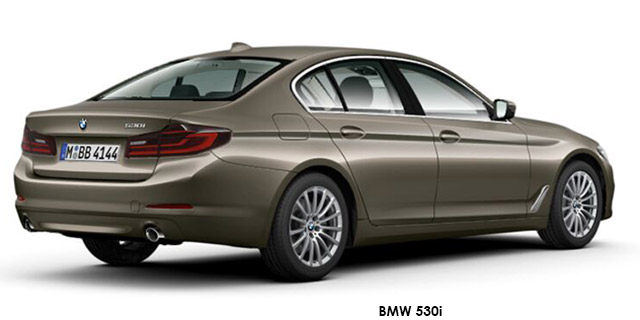 Price : R1035516
0-100 km/h: 5.1
Power ([email protected]/min): 250/5500-6500
Torque ([email protected]/min): 450/1380-5200
Top speed: 250
Claimed cons. (l/100 km): 7.2
C02 emissions (g/km): 164