Offering seven seats at a very affordable price, is the GO+ really as good as it seems?
"Be careful what you wish for, because you just might get it." This little zen-infused adage has a knack of coming true … just ask our editor. In last month's issue, he bemoaned the increasing unaffordability of new vehicles and called on manufacturers to build cheaper, less technologically laden options. And that's exactly what arrived a few weeks later.
The Datsun GO+ is, of course, not an entirely unfamiliar vehicle – we tested its five-door hatchback sibling in our December 2014 issue. While in that test we acknowledged the GO's attempt at affordable mobility and commended its plucky engine, the CAR team was highly critical of its lack of safety features, namely airbags and, most crucially, ABS. It received a low score of 63/100. Does the larger GO+, then, offer any features or improvements that could convince us it deserves a higher rating?
Well, they are fundamentally the same car, with the same drivetrain, chassis, wheelbase and interior and exterior designs. The difference is a body that is 210 mm longer and 5 mm higher, freeing up space inside for a third row of seats. And the GO+ does come standard with a driver's side airbag (now an option on the GO), but still no ABS…
Inside, the GO+ is identical in execution to the hatch; there are swathes of hard plastics and seats covered in cheap fabric. This is acceptable for a car at this price, though, and a lack of creaks and rattles was a plus. There isn't much spec beyond an air-con, front electric windows, a trip computer, follow-me-home headlamps and a rather odd, radio-less sound system. The latter comprises a smartphone clamp, USB and aux-in ports and a volume control. Unfortunately, the USB port doesn't transfer data, so it's for charging only, and you have to connect an auxiliary cable to be able to listen to your phone's music.
With its extended body and third row of seats, the GO+ does offer 24 mm more second-row legroom and a noticeable increase in scalp clearance over the donor hatch. That said, three adults abreast will mean plenty of body contact, and the knees of some taller CAR testers were up against the front pews' lumbar supports. The bench has two three-point, non-inertia seatbelts and one lap belt.
Folding forward the second-row bench seats gives you access to the third row, and here space is even tighter. In fact, calling this a third row of seats is, at best, optimistic, with only small children able to sit with any degree of comfort. And even they will have their knees at chest height. That point seems moot, though; it's not like you'd want your children to be occupying these flimsy seats sited right against the rear window. Lap belts are the only nod to safety back here.
Out on the road, our performance testing delivered figures that matched the similarly powered hatchback's in both in-gear acceleration, 0-100 km/h sprint and braking times (despite the GO+ being 50 kg heavier).
The three-cylinder, 1,2-litre engine remains the highlight of the package. It's a peppy, free-revving unit that may sound a bit gruff at idle, but has enough torque to hustle along the freeway at cruising speeds and – with some stirring of the mechanically precise five-speed gearbox – it also ferried five members of the CAR team up a steep local hill. Our tested 0-100 km/h time of 14,50 seconds was more than a second off the claimed 13,30 seconds, but on par with the other budget cars at this price point.
The GO+'s ability to come to a standstill from that speed, however, was anything but comparable. In the absence of ABS brakes, the wheels locked up under emergency braking at anything over 30 km/h and, during our testing, bringing the car to a halt from 100 km/h without trailing a long, weaving strip of rubber required a concentrated effort to balance the brake pedal on the edge of lock-up. This resulted in an average 100-0 km/h time of 3,71 seconds and distance of 48,19 metres, which  rate as poor. In an emergency situation, however, most of us will instinctively brake as hard as possible, and the resultant skid would mean not only increased time and distance before the vehicle comes to a stop, but, more significantly, a loss of steering control.
And, talking of the steering, you will need to do plenty of it. Not only is the electrically assisted system too light and overly vague, but the Datsun is severely affected by cross winds and, along with soft suspension and the resultant body roll, constant steering inputs are required to keep the vehicle in a straight line. That compliant suspension does result in a comfortable ride, but there is a significant amount of lean when cornering and insufficient damping to moderate the resultant return roll.
Test Summary
In theory, there is a strong case to be made for a vehicle such as the GO+. It represents budget motoring and therefore requires allowances for its low specification and poor NVH levels, indifferent steering and wallowy body control (despite a number of other budget cars not suffering similar afflictions). However, where you might be inclined to forgive these shortcomings in the GO, there is one fundamental difference between it and the GO+: Datsun markets the latter as a family car. Given the lack of safety features – especially ABS – and the inherent risks that motoring in South Africa with its congested roads and poor driving represent, we cannot recommend the GO+ as a vehicle suitable for a family where safety is a key requirement. Your money would be better spent on alternatives like the Suzuki Celerio and Renault Sandero or, if seven seats are a must, on a similarly priced pre-owned car such as the more accomplished Nissan Livina or Suzuki Ertiga. *From the November 2016 issue of CAR magazine
Road test score
Datsun Go+ 1.2 Lux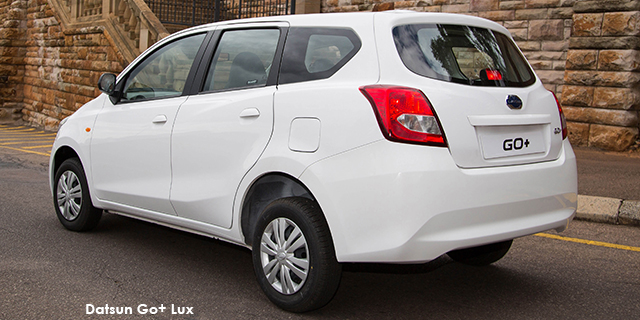 Price : R144900
0-100 km/h: 13.3
Power ([email protected]/min): 50 / 5000
Torque ([email protected]/min): 104 / 4000
Top speed: 161
Claimed cons. (l/100 km): 5.2
C02 emissions (g/km): 123