Does the expanded Everest range have what it takes to turn the Fortuner's irritation into a headache?
While 2017 looks likely to be the year of the double-cab, an intriguing sub-plot involves the lifestyle vehicles that share their underpinnings (and, to a large extent, reputation) with their bakkie-based siblings. Based heavily on the Ranger double-cab that continues to provide a monthly sales-chart irritation to the traditionally all-conquering Toyota Hilux, Ford's recent expansion of its previously limited Everest range looks set to, by reputation alone, challenge the Fortuner's market dominance.
Introduced in 2015 in high-end XLT or full-house Limited specification, the original Everest was fitted exclusively with a 3,2-litre five-cylinder engine mated with a six-speed automatic transmission and all-wheel-drive drivetrain. It impressed not only with its rugged looks, but also its packaging and perceived build quality.
Less impressive, however, was the asking price associated with its fully loaded specifications list, and the summary of our December 2015 issue road test looked forward to the introduction of a broader, more keenly priced range. Now built in South Africa (earlier models were imported from Thailand), the Everest range has grown to include two-wheel-driven derivatives, as well as a 2,2-litre Duratorq TDCi option mated with either a six-speed manual or six-speed automatic transmission.
While XLS specification offers a well-priced entry point into the range, XLT trim, as featured here, gains additional exterior styling cues, including a chromed grille with matching door handles and side mirrors, and larger (18-inch) alloys for added presence. Although often more impeding than functional, runner boards are standard fitment throughout the range. Also included from XLT trim upwards is leather upholstery, as well as Ford's latest Sync3 infotainment system housed in a solid-feeling facia. The step up both in terms of functionality and usability over the Sync2 system is notable.
Some testers commented that the supplementary climate-control buttons positioned lower down on the centre console are initially difficult to decipher, but all praised the workings of the comprehensive multifunction steering wheel, including the operation of two additional information displays positioned on either side of the speedometer.
Rugged underpinnings aside, much of the appeal of vehicles in this segment lie in the fact that they can accommodate up to seven passengers. Here, as is the case with the Chevrolet Trailblazer (and unlike the Fortuner's compromised layout), the Everest's packaging allows for both third-row seats to be neatly folded into the boot floor when not required. In position, and with a generous amount of fore and aft movement permissible on the second row (60:40-split), there's just enough leg- and headroom to comfortably accommodate two adults. A welcome touch is separate rear climate-control modulation, together with dedicated vents for second- and third-row occupants.
Carried over from the Ranger is the familiar 118 kW 2,2-litre four-cylinder TDCi engine, tested here with a six-speed automatic transmission. In Everest application, specifically fitted to our 2 275 kg test unit, it's a drivetrain combination that thankfully begins to feel overwhelmed only once outside the vehicle's natural habitat, specifically at speeds beyond 100 km/h. Here, as mentioned when we tested the 2,2-litre Ranger, some care and planning is required before attempting overtaking manoeuvres.
Confirming our experience with our previous Everest road test, Ford's six-speed automatic transmission can display signs of CVT-like, energy-sapping "slip" under hard load. A consequence of this is a 0-100 km/h acceleration best described as leisurely when compared with its direct rivals. The benefit of an altogether more conservative driving style, however, is a fuel-consumption figure that's, in turn, likely to easily undercut both the Fortuner and Trailblazer models against which it competes.
Even fitted with 18-inch alloy wheels, there's little to fault in the way the XLT-spec Everest tackles all road conditions, remaining impressively composed over uneven surfaces (including gravel), while successfully countering the raised body's natural tendency to lean while cornering. The combination of both a relatively light steering action and tight turning circle, as well as the standard fitment of reverse parking sensors (including camera) makes the Everest somewhat less intimidating to manoeuvre around city parking areas than you might expect. These remain large vehicles, though.
Test Summary
Our first taste of the new Everest revealed a rugged-looking, well-packaged and, by all accounts, solidly built offering that displayed all the hallmarks of potentially unsettling the traditional Fortuner dominance in our market. The newly introduced broader range of South African-built derivatives successfully builds on this potential. Model for model, the Everest range is now well priced in this popular segment and potential buyers should be able to find enough superior specification in the Ford, including a total of seven airbags, to justify their purchase over its main rival. Is it better than that Fortuner, then? As with the double-cabs on which they're based, the choice between the Fortuner and Everest is as close as it gets. It's going to depend on what qualities you prefer. While that may sound like we're sitting on the fence, it's rather a reflection of the close tally of the CAR team's votes. In this test, the Everest 2,2 TDCi XLT auto takes it by one point over the Toyota Fortuner 2,4 GD-6 auto... *From the March 2017 issue of CAR magazine
Road test score
Ford Everest 2.2 XLT auto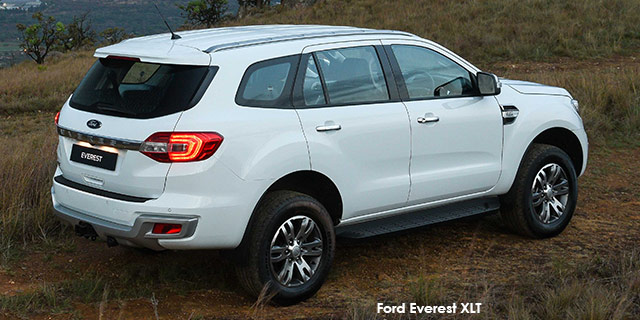 Price : R501900
0-100 km/h: n/a
Power ([email protected]/min): 118 / 3700
Torque ([email protected]/min): 385/1500-2500
Top speed: n/a
Claimed cons. (l/100 km): 7.3
C02 emissions (g/km): 193