We scrutinise the very first SUV from Italian premium brand Maserati…
Maserati. The mere mention of the name conjures up images of sun-kissed Italian beaches studded with fashionable socialites drinking champagne while watching the sun set over the Mediterranean. For a brand that epitomises la dolce vita, the last thing we expected from the stylish Italians was a high-off-the-ground, all-wheel-drive SUV. Such a model is at odds with the long tradition of sports and GT models begun by the Maserati brothers at the start of the previous century.
However, even that once die-hard producer of sportscars, Porsche, realised that it simply had to recognise market demands to stay profitable and, now, the Modenese firm has also joined the ranks of Bentley, BMW, Mercedes-Benz and, soon enough, Rolls-Royce and Lamborghini by offering its very own take on the SUV theme. Welcome to the Levante, a model that, if you're wondering, is named after a warm Mediterranean wind.
Of course, being style-consciously Italian, Maserati wasn't simply going to churn out a squared-off, two-box design, and the Levante's curvaceous lines immediately set it apart from more angular rivals. While there are hints of Jaguar F-Pace around the rump and more than one tester was reminded of Infiniti's ungainly QX70, the Levante certainly stands out from a sea of Range Rover Sports and Porsche Cayennes. Even with relatively few Maseratis on South African roads, and considering that the SUV derivative is all new, it was interesting to note how quickly onlookers pegged our test car as a Maserati.
The large front-sited air intake, with pride of place going to Neptune's trident, and narrow headlamps, help create strong stylistic links between the Levante and other models in the family, such as the Ghibli. Riding on optional 21-inch wheels (19-inchers are standard), with a low-slung roofline, the Levante certainly lives up to the "S" in the SUV part of its description. In images, the Levante comes across far more compact than it really is. In the flesh, it casts a large shadow, measuring a touch over five metres long and nearly two metres wide.
The curvy theme continues inside the cabin, with a bowed cowl over the main instruments, a shapely facia and beautifully crafted door handles. Our test unit was specified with an oxblood-red interior, an attractive hue that suits a car of this ilk; this bright shade of leather is offset by optional polished carbon-fibre trim. Centre stage on the facia is occupied by a high-definition, touchscreen infotainment interface, which also serves as the display for a rear-facing camera. Stitched leather on the facia and on contact surfaces makes the cabin a sumptuous proposition.
While the exterior dimensions are generous, space in the cabin isn't. The cockpit feels smaller than it should, and one tester even remarked that the transmission tunnel impinged on his driving position. Rear leg- and headroom are at a premium, making it less-than-ideal transportation for four adults, and luggage volume also falls below that of its main rivals, or even that of smaller SUVs (despite the boot only carrying a deflated space-saver tyre).
For now, there is only one powertrain option in the local Levante range, a 3,0-litre turbo-diesel. There's no word from local representatives as to when we can expect the petrol derivatives that are available in other markets. Power is fed to all wheels via an eight-speed automatic transmission and, unique to the segment, the Levante possesses a mechanical limited-slip rear differential as standard. Peak power is rated at 202 kW, accompanied by a handy 600 N.m of torque.
On our test strip, these figures should have made for brisk performance; however, while the Levante is no slouch with a 0-100 km/h time of 7,44 seconds, this acceleration performance is blunted somewhat by a measured mass of more than 2,4 tonnes (heavier even than the  portly Range Rover Sport). In our braking tests, though, it performed well, returning an average stopping time of 2,88 seconds. Once on the move, the compression-ignition motor announces itself vocally, but obviously without the evocative exhaust crackle you usually associate with Maseratis. Even with 600 N.m of twist action, the power delivery, despite feeling exceptionally smooth, does feel underwhelming.
Again, though, it's probably a function of the high mass and a refined drivetrain rather than a lack of performance. There is also a definite trace of turbo-lag; plant the throttle to make hasty progress or overtake, and there's a momentary pause before the V6 gets into its stride. You can provoke more urgency from the engine by switching to sport mode, but oddly the throttle calibration in this mode feels unnatural and more like an on-off switch. In keeping with the brand's sporting heritage, although not as dynamically adept as the RR Sport or Cayenne models, the Levante displays a definite sporting slant.
An oddity in this day and age, the steering system is hydraulically assisted, which allows for clear communication between the front wheels and driver's palms. The ride is firm, in part due to the low-profile rubber, with the payoff being a flat cornering stance and a commendable level of cornering grip when you turn up the wick. The air-sprung suspension nevertheless provides impressive bump absorption at higher speeds. The ride height is variable should you ever venture off-road and, on the open road, the ride clearance adjusts automatically depending on speed.
Test Summary
As a first attempt at an SUV, the Levante does well to compete with other top-end products and Maserati has imbued this popular and heavily contested segment with its own brio and pizazz. The looks, interior and standard specification make it an attractive proposition, until you take a look at the list price... At R1,65-million, Maserati South Africa is placing an extremely high price on exclusivity and our test unit was also equipped with enough extras to surpass the R2-million mark. Sure, the Levante will set you apart from the many Range Rovers, BMW X5s and Porsche Cayennes plying our roads, but you'll have to pay dearly to be the only Maserati in the parking lot. Dynamically, and in the comfort stakes, it also tends to slightly fall behind the best in class. If you prefer a better ride quality, more refinement from your powertrain and/or a more dynamically adept SUV, then we recommend a Range Rover Sport. For less than the Levante, you can have the superbly equipped TDV6 HSE, or for a little bit more, the even more luxurious 250 kW/740 N.m SDV8 HSE Dynamic … and that's pretty difficult to argue with. *From the May 2017 issue of CAR magazine
Road test score
Maserati Levante Diesel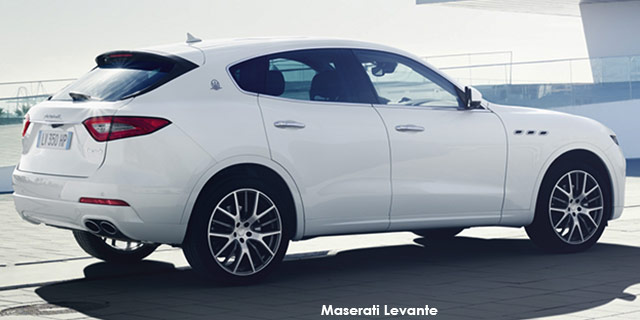 Price : R1652360
0-100 km/h: 6.9
Power ([email protected]/min): 202 / 4000
Torque ([email protected]/min): 600/2000
Top speed: 230
Claimed cons. (l/100 km): 7.2
C02 emissions (g/km): 189