Finally, the Captur gets the powertrain it always deserved…
The Captur has been a roaring sales success for Renault South Africa. There are myriad light crossovers to choose from, but tellingly, more than 4 500 South Africans have opted for this stylish French option. The Captur obviously has many appealing qualities to find favour with so many new buyers, and in our time with a long-term test unit, we have come to appreciate its strengths, although a number of weaknesses were evident, too.
Conspicuous by its absence in the range was a diesel-powered derivative, which is odd when you consider the French marque's proclivity towards oil-burners. That changed recently when the local subsidiary added a 1,5-litre turbo-diesel to the family. Until now, we've felt that the Captur's petrol engines, especially the 1,2-litre when combined with the flawed EDC twin-clutch transmission, were weak points in the model's otherwise commendable repertoire. To spice things up, Renault South Africa has introduced the turbodiesel motor in high-spec Dynamique trim, and 100 customers will be privy to the model Sunset Limited Edition model seen here.
Orange highlights render this version instantly recognisable, and it garnered quite a few inquisitive stares during its test period. Diamond Black paintwork is accentuated by contrasting roof and mirror caps, and front, rear and side trim in orange. It may sound garish, but the highlights work well on the Captur's curvaceous shape. The same contrasting colour scheme is used in the cabin, with such elements as the air vents, infotainment console and door speaker surrounds, parts of the steering wheel and removable seat covers all trimmed in orange. Although striking in its execution, we could easily have lived without the swirly pattern on the steering wheel.
In Dynamique trim, the Captur comes with a full suite of modern conveniences as standard, including a few items that even high-end luxury brands still charge handsomely for. Among these niceties are a reversing camera (a recent addition), auto wipers and lights, keyless entry with touchless locking and satellite navigation. The infotainment system has been updated, heralding further smartphone integration, as well as updated graphics and a quicker processor that makes switching between functions smoother than before.
The most noteworthy change, however, has taken place under the bonnet, where the firm's most popular engine now resides. The 1,5-litre turbodiesel is a refined unit that can be found in several Nissan/Renault products, and even in some Mercedes-Benz A-Class models. In the Captur, it is mated with a five-speed manual transmission. The inline four develops 66 kW, with a healthy 220 N.m of torque on tap from a lowly 1 750 r/min. Power is delivered in a linear fashion with no apparent turbo lag at sea level. There's just a satisfying swell of low-down torque, with power produced high up into the rev range, although we found that short-shifting and staying in the meat of the torque curve was more in keeping with the car's character.
Were it not for a spot of low-speed engine chatter, you would be hard-pressed to guess this was an oil-burner. And, thanks to the manual gearbox (with slightly rubbery but light and short shifts), you can easily exploit the engine's torque characteristics. On our test strip, the punchiest Captur performed as promised.
But even more impressive than the acceleration and braking times was the average fuel consumption. Renault claims an NEDC figure of 3,6 L/100 km in the combined cycle. On our standardised fuel route test, we recorded a far more believable, yet still remarkable 4,6 L/100 km. Some our testers felt that the addition of a sixth ratio would enable drivers to further mine the torque reserves and make for a more relaxed open-road driving experience, while helping to even further reduce fuel consumption.
On the road, the dCi variant displays the same ride and handling traits as its petrol siblings. That is to say it has an inert steering action and ride quality that's largely compliant, if a little choppy under some circumstances. The slightly elevated ride height also gives at a similar degree of city user-friendliness as an SUV, but with none of the size-related drawbacks.
Test Summary
Barring a couple of small reservations, Renault's latest Captur has generally been well received by our test team. By adding an excellent turbodiesel engine mated with a slick-shifting manual transmission, we believe Renault has created the model that the range has been crying out for. Couple the improved driving experience, thanks to the added torque, with generous standard specification and one of the lowest fuel-consumption figures we've ever recorded, and the Captur 1,5 dCi should be high up on your short list if you are shopping in this segment. *From the November 2016 issue of CAR magazine
Road test score
Renault Captur 66kW dCi Dynamique Sunset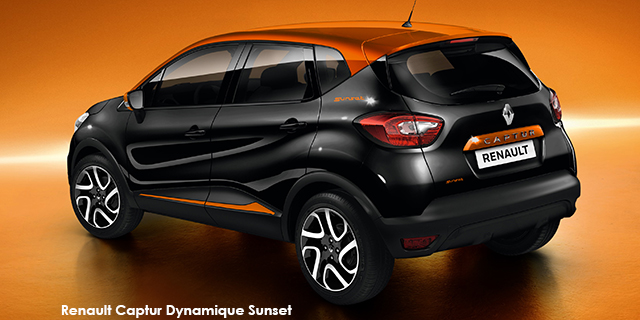 Price : R292400
0-100 km/h: 13.1
Power ([email protected]/min): 66/4000
Torque ([email protected]/min): 220/1750
Top speed: 171
Claimed cons. (l/100 km): 3.6
C02 emissions (g/km): 95