The usually conservative Japanese automaker goes out on a limb with this attention-grabbing compact crossover…
Toyota has had another moment. It had one with the FJ Cruiser, another with the 86, and once again with this strikingly styled SUV crossover it's labelled a Coupé-High Rider. With a hard-earned reputation for reliable, well-engineered and conservatively designed vehicles, these moments are both few and far between, and hardly surprising given the success this automotive giant has enjoyed with its bread-and-butter line-up. Yet, peppered among this long roster of stalwarts are mould-breakers like the 2000GT, MR2 and Supra that, along with the two mentioned earlier, have displayed an atypically playful side to this straight-laced autobrand.
It's a particularly significant move, too. Whereas these anomalies have usually been niche-segment sportscars, this C-HR enters what is becoming one of the most competitive automotive market segments around: the compact crossover/SUV. And, when going after volume, Toyota's usual default is the complete opposite to this riot of flowing lines, sharp creases, rounded curves and flat planes you see in the accompanying images.
This new Sensual Speed-Cross design language has what Toyota calls a "diamond architectural theme", with details that have been sculpted and chamfered to represent the facetted surfaces of a precision-cut gemstone. Call it what you will, but it certainly makes a statement, with a nose and rear treatment dominated by big, bold headlamps and protruding rear lights. The cinched waist is a neat visual trick, too, and both elongates the C-HR and accentuates that audacious front/rear design.
Climb inside and the theme continues with an asymmetrical, driver-focused and multi-level facia that's bisected by a flat plastic plane that runs from door card to card. You could describe it as fussy, tough to keep clean and finished with some Toyota parts-bin display screens and buttons, but the dash is an excellent example of how thoughtful design, despite the presence of mid-level plastics, rubber and faux leather, can be elevated above the ordinary. That diamond theme is echoed in the cabin, with the faceted door panels and large diamond shaped-indentations on the roof lining.
It's a well-specced interior, too, the highlights of which on this Plus model are a three-spoke leather-covered steering wheel, dual-zone climate control, cruise control and 6,1-inch touchscreen infotainment centre that's also operated by a four-way direction switch on the steering wheel. The latter is, unfortunately, not the impressive eight-inch unit fitted to the models we drove at the C-HR's international launch in Madrid at the end of last year, but a functional unit that looks too much like previous-generation technology and is backlit in a dated yellow colour that doesn't match the rest of the interior lighting.
There are a couple of other obvious letdowns to the cabin as well. A lack of side and curtain airbags is a surprise given what its competitors offer in the segment (only driver and passenger airbags are fitted), and the other notable absentees are a reverse camera and parking sensors. The one downside of that swooping, coupé-like roofline, with its high beltline and small rear windows, as well as thick C-pillars, is precious little in the way of rear vision, and reverse parking involves more guess work than most drivers will be comfortable with. A perceived lack of rear space is another downside. The C-HR's 2 640 mm wheelbase means there is an impressive 686 mm of rear legroom (on par with the likes of an Opel Astra), but those thick C-pillars and small windows can make rear passengers feel claustrophobic.
Rear boot and utility space are also particularly small for this segment. In European markets, the boot houses a smaller space-saver tyre, but for our market Toyota has opted for a full size spare on launch models. The result is a raised boot floor that shrinks an already small space to just 152 litres. That, by way of comparison, is smaller in boot and utility space than Toyota's little Etios hatch (200/978 litres). A glance through our testers' notes indicated descriptors next to the "boot" category that range from "very small" to "shocking" and "a joke".
That, however, is where the CAR team's criticisms of the C-HR end. The rest – the powertrain, the ride and the handling – are as good as it gets in this segment. The C-HR is the first vehicle in our market to get Toyota's 1 197 cm3 turbopetrol and we found it to be an impressively refined unit, delivering 85 kW and 185 N.m of torque between 1 500 and 4 000 r/min. Employing direct injection and an air-to-water intercooler along with electronic wizardry that allows the engine to change from the Otto to the Atkinson cycle under low loads, the unit is characterised by linear power delivery that, while not the meatiest, does a satisfactory job with very little in the way of discernible lag.
An average 0-100 km/h time of 11,19 seconds is just that – average – but the in-gear-acceleration numbers in third, fourth and fifth gears do show some punch if kept in the torque band. The six-speed manual is a slick cog-swapper and is well calibrated for this segment; it neither demands precise and firm shifts, nor does it feel sloppy. The manual gets Toyota's iMT (intelligent Manual Transmission) system we first encountered in the new Hilux and Fortuner. A switch above your right knee activates the system that automatically blips the engine to increase the revs, resulting in smoother gearshifts. It also helps with smooth pull-offs and makes it very difficult to stall.
The obvious question, then, is why this is not a permanent function rather than one that can be switched on and off? That said, having briefly driven the CVT derivative of the C-HR, there's no doubt that this manual 'box is the transmission best suited to take care of the engine's abilities. Similarly, while there are three driving modes – eco, normal and sport – that tailor the engine's characteristics accordingly, it's unlikely owners are going to use anything other than normal.
The difference between that and sport is negligible, whereas eco dulls the powertrain far too much. A quest for fuel efficiency is one of the main benefits of these modern turbopetrols and the C-HR returned a fuel run figure of 6,6 L/100 km; impressively close to Toyota's combined-cycle claim of 6,3 L/100 km, but that did crest 8,0 under more spirited driving … which is exactly what the C-HR's chassis inspires.
Toyota managed to get the C-HR's ride and handling spot-on and this dynamism reinforces the vehicle's exterior persona. This is a fun car to pilot and the Japanese firm has managed to imbue it with both a supple ride that is refined and comfortable, displaying excellent road-imperfection-absorbing abilities, as well as a hint of sporty dynamics.
It shares Toyota's new TNGA platform with the Prius; a car that, as part of our long-term fleet, has impressed us with its comfortable ride. A low centre of gravity, double-wishbone rear suspension and a bespoke MacPherson-strut suspension that produces sharp and accurate turn-in gives the C-HR qualities you'd associate more with a good C-segment hatch than with a compact crossover. At an average of 2,80 seconds, the C-HR's braking tests displayed similarly impressive abilities.
Test Summary
Toyota has a winner with this attention-grabbing crossover and this usually conservative Japanese autobrand should be not only applauded for bringing a car like this to market, but encouraged to do so more often. It's not without its faults, sure – just two airbags, no rear parking sensors or camera, and that tiny boot being the biggest – but its fresh styling, refined drivetrain and supple ride make up for it. Given the lack of boot space that disqualifies it as a practical family vehicle and looking at that millennial-style #InternetApproved marketing campaign, Toyota is clearly aiming the C-HR squarely at younger drivers. And, for those younger drivers who might find the 1,2T Plus' R345 000 asking price too steep, you'd do well to look at the base 1,2T manual that, at R318 500, still offers a high standard specification. *From the May 2017 issue of CAR magazine
Road test score
Toyota C-HR 1.2T Plus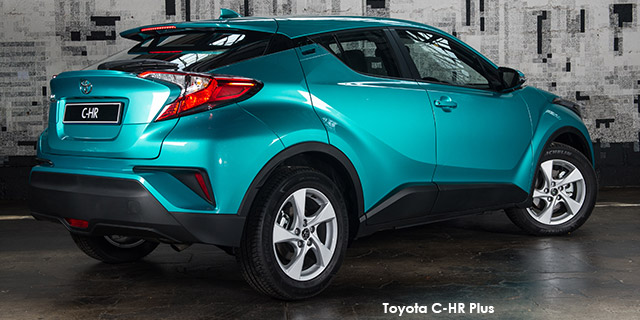 Price : R345000
0-100 km/h: 10.9
Power ([email protected]/min): 85/5600
Torque ([email protected]/min): 185/1500-4000
Top speed: 190
Claimed cons. (l/100 km): 6.3
C02 emissions (g/km): 141