T HE late Steve Jobs, the man credited with making Apple one of the largest and most profitable companies in the world today, had this to say about design: "…it's a funny word. Some people think design means how it looks. But of course, if you dig deeper, it's really how it works." And, in many ways, the evolutionary path Volkswagen AG has adopted with its best-selling product, the Volkswagen Golf, is very similar to that of Apple with its ubiquitous iPhone mobile handset. Although the appearances of the products may not have changed significantly through their last three iterations, two important facts endure: both are instantly recognisable and every update hides significant under-the-skin developments designed to keep the products atop the sales charts for the foreseeable future.
As opposed to its short-lived predecessor, which made its local debut as recently as 2009, the Golf 7 is expected to have a six-year model life, which explains why its designers were keen to give Wolfsburg's compact hatch an evolutionary rather than revolutionary look (see an interview with its designer on page 18). Despite this, there are enough visual changes to suggest that even as Golf nears its 40th birthday, it's fresher and leaner than ever. Even in entry-level guise, the newcomer has a more aggressive stance thanks largely to the flexibility afforded by the VW Group's impressive new Modular Transverse Matrix platform. As is the case with the new Audi A3, of which a road test appeared in last month's issue, the latest Volkswagen Golf has a longer wheelbase (by 57 mm), sits lower to the ground (by 28 mm) and is 13 mm wider than the car it replaces. Rather than showing signs of bulking-up, the new car's skin has been pulled tight, highlighting previously unseen crease and shoulder lines. Significantly, the new Golf is also up to 100 kg lighter than the Golf 6.
And, like the Audi with which it shares a platform, the loss of weight throughout the new Golf package is immediately noticeable from the driver's seat. From the standard leather-bound steering wheel with neat multifunction buttons, to the touchscreen infotainment system (varying in size depending on specification), revised switchgear, and an intuitive, hill-hold-enabled electronic parking brake, it's clear that careful attention has been paid to making the humble Golf feel as special as possible while remaining classless. Fit and finish levels within the cabin are once again class-leading and, thanks to the combination of a wide variety of comfort adjustments afforded to the driver, and an increase in rear legroom, there isn't a bad seat in the house.
While there are competitors with larger luggage capacities than the new Golf, Volkswagen claims the load sill is up to 17 mm lower than the previous model's and a full-size alloy spare wheel is housed below the boot board.
Likely to be a volume seller, the revised 90 kW TSI petrol engine is available with either a six-speed manual or seven-speed DSG transmission. And, while the smooth-sailing nature of the dual-clutch option certainly has its appeal – particularly given modern-day levels of congestion – there's still a lot to admire about the lightweight, positive action of VW's manual 'boxes. Power delivery is smooth and linear with maximum torque (200 N.m) available from just 1 500 r/min. The true advantage of this engine/transmission combination is that the test unit is as comfortable ambling along at everyday cruising speeds as it is with pushing along towards the 6 000 r/min redline (and 6 500 soft limiter).
BlueMotion technology features heavily in the new Volkswagen Golf range and in this application it sees all models fitted with stop/start systems and battery regeneration modes. Combined with the frugal nature of the turbocharged 1 395 cm3 TSI engine, this model has an impressive 6,24 litre/100 km fuel index.
One of the main areas of focus in the development of the new Golf was overall ride quality and, as a consequence, passenger comfort. To this end, the seventh generation of the most popular people's car has shifted the goal posts for what is considered class-leading in this segment. While Highline models are fitted as standard with larger wheels and sports suspension, the Comfortline arrangement, with its 16-inch alloy wheels and unmodified multilink rear suspension (complementing a MacPherson-strut arrangement up front), provides a near perfect compromise between superlative everyday comfort and body-roll-countering firmness. The test team was unanimous in declaring the Golf's ride quality as one of the most refined and compliant in this segment – and one that could easily embarrass more luxurious models in the market. Standard throughout the range is ESP stability control and an XDS system that mimics the behaviour of a limited-slip differential by braking the inside front wheel of the car when exiting a corner under enthusiastic driving conditions (previously available only on the flagship GTI model). Electric power-assisted steering may not communicate the true goings-on of the front wheels to the driver, but the latest Golf comfortably upholds the reputation for assured handling established by the first-generation model some 40 years ago.
In terms of crash safety, it's not surprising that the Golf 7 achieved a 94 per cent occupant safety rating as part of its five-star Euro NCAP rating. Seven airbags, ABS with EBD and brake assist, and Volkswagen's new Multicollision braking system (which automatically applies brakes after an initial collision in order to minimise collateral damage) are standard equipment throughout the range.
Test Summary
There is another motor company (of which Volkswagen is a major shareholder) that adopts a similar approach to looking after its most valuable (if no longer most profitable) asset. While Porsche has adapted its product line-up over the years in order to meet the market demands, it remains unwavering in its commitment to preserving its most iconic product, the 911. It's a commitment that, despite criticism, has seen the car remain true to its original (instantly recognisable) design while evolving to offer its customers a complete package of comfort, performance, peace-of-mind ownership and, more recently, a renewed focus on efficiency.
In sportscar terms, despite there being numerous (arguably more glamorous) rivals, the 911 remains the ultimate car for all occasions. With the new Golf, Volkswagen has evolved its own iconic model to offer class without being vulgar, comfort without compromising driver involvement, versatility without being bulbous, efficiency without a sacrifice in performance and, in local terms, a refreshing new focus on value for money. Say what you will about the styling, but there is simply no competitor in its segment and arguably the market that comes close to offering as much in one complete package as the new Volkswagen Golf 7.
Watch a video review of the new Volkswagen Golf 7 1,4  TSI Comfortline here.
Test Summary
Road test score
Volkswagen Golf 1.4TSI Comfortline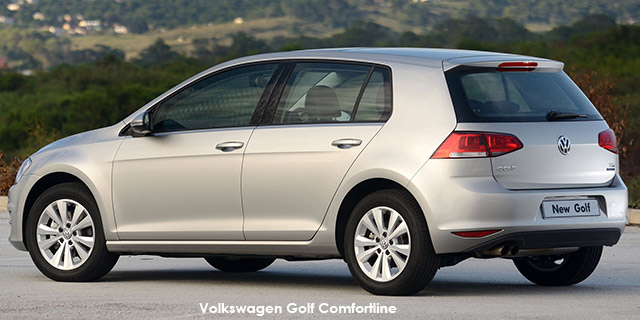 Price : R308000
0-100 km/h: 9.3
Power ([email protected]/min):
Torque ([email protected]/min):
Top speed: 203
Claimed cons. (l/100 km): 5.2
C02 emissions (g/km): 123